Fubuki is daughter of Lillie (Tianshih) and Caruso ,
she is our true darling with exeptional intelligence and personality.
She is happy and very outgoing girl.
She already won Best Puppy in Breed in January 2015 , and being atat age of 9 months in April 2015 won
BOB Junior , and through comperament with mature male
- Best of Breed!
DATA
WYSTAWA
KLASA
OCENA
LOKATA
SĘDZIA
01.2015
Głogów


(cwc)



szczeniąt
wybitnie
obiecująca



1,Najlepsze Szczenię
w Rasie





16.05.2015
Świebodzice


(cwc)

młodzieży

doskonała




Najlepszy

Junior
Zw.Młodzieży
Zw.Rasy

(FIN)

Jussi Liimatainen
31.05.2015
Leszno


(CACIB)

młodzieży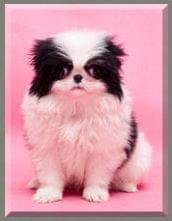 ***NEWS***

16.05.2015
NDS Świebodzice

Spirited Away Fubuki
Best Junior , BOB Junior , BOB !!!
Jesse's Northern Star
V1,Best Puppy in Breed !!!

************************
Opole Club Show

Jesse's Northern Star
V1,Best Puppy in Breed ,
BIS Puppy IV !!!

**********************

NDS Głogów

Spirited Away Fubuki
V1,Best Puppy in Breed

***********************

IDS Bratislava

Kopykats Captain Crunch
2x V1, 2xCAC , 2xCACIB

************************

NDS Zielona Góra

Kopykats Kaptain Crunch
1 , CAC , BOB , BIS III

Caruso Riko Star de Imperium Auri
1 , CAC , BOB , BIS II

**************************
IDS Brno

Tianshih Kawa Yuri
1 , CAC , CACIB

************************